"As a member firm of Grant Thornton, we are able to combine the knowledge and experience of our local marketplace with the technologies, methodologies and specialist resources of a professional services organisation at the forefront of the global accounting profession."
Ibrahim Hammoudeh, Managing partner
We are Grant Thornton Jordan
Arab Professionals Co, Grant Thornton Jordan, is one of the leading and most reputable firms in Jordan. We provide audit, accounting and consultancy services of the highest professional standards to a wide range of prominent international and local entities.
Fast figures 2014
US$0.96
million
Revenue
Fast figures 2014
32
People
Fast figures 2014
1
Offices

Global strength
Grant Thornton is one of the world's leading organisations of independent assurance, tax and advisory firms. With more than 40,000 Grant Thornton people, across more than 130 countries, we are focused on making a difference to clients, colleagues and the communities in which we live and work.

Why Grant Thornton
Grant Thornton Jordan provides its professional services to more than 200 clients, including more than 35 public entities listed on the Amman Stock Exchange. All partners and most of our staff members hold professional qualifications and postgraduate certificates. Our combined knowledge and experience of our local marketplace are at the forefront of the global accounting profession."
Awards
Grant Thornton is an award-winning globally recognised professional services network. Here are some of our awards.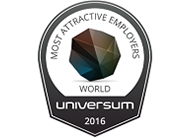 The World's Top 50 Most Attractive Employers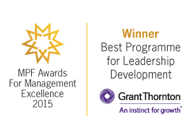 Best Programme for Leadership Development in 2015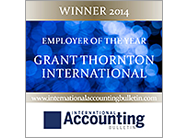 IAB Employer of the year 2014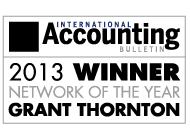 Global network of the year 2013